As low as $284.00 Regular Price $436.92
The best linear shower drain install methods. We are going to cover a few topics so we will break them down into sections so it is easy to follow along. Let's get started with our first section which is one of the most important parts of the entire project...

Research
Research is going to be the most important part of this entire process for this type of product. Understanding what the linear shower drain install is for, how to use it, the positioning and overall look and feel of it's design and style are things you need to know and understand or at least have some concept of the idea so when you go hire a designer or a contractor to help you with this process, it's easier to help guide the conversation and get the overall look that you want because you understand what it is and how it can be used. Some of the research that you can do is obviously with Google, but it's more of the questions that you need to ask that are more important. Some of the things that you need to dig into in my opinion and some of the things that you may be able to answer right off the bat are one - Does this need to be handicap accessible? Are there any wheelchairs moving in or out or any other type of accessibility items that are going to be used to get in and out of the showering area? Number two - Do you want a curb or not? Is there anything that you want to step over when getting into your morning ritual? There are lots of people that don't have handicap accessibility things that they need, however with current trends this curbless sleek design is becoming more and more popular and it really creates an elegant look to the area, your room, your bathroom. So definitely ask yourself those questions and if you have more or want to do more research on shower curbs and going curbless in those areas, definitely look at this shower curb article here and this walk-in shower article here. 
Now that you understand a good bit of research and some resources, a couple questions to kind of ask yourself before digging into this...there's also some other things that you kind of need to think about, not necessarily questions to ask yourself but just things to think about when looking at this type of product. What kind of style? What is the overall look and feel of the bathroom? Do you want it to match? Do you want a little bit contrast in thebath room? What about the color, the shape? How long do you want it? That your positioning in the shower room also has a big effect on the type of product and research that you need to be looking for when trying to get the right product for this job. 
Where To Get It?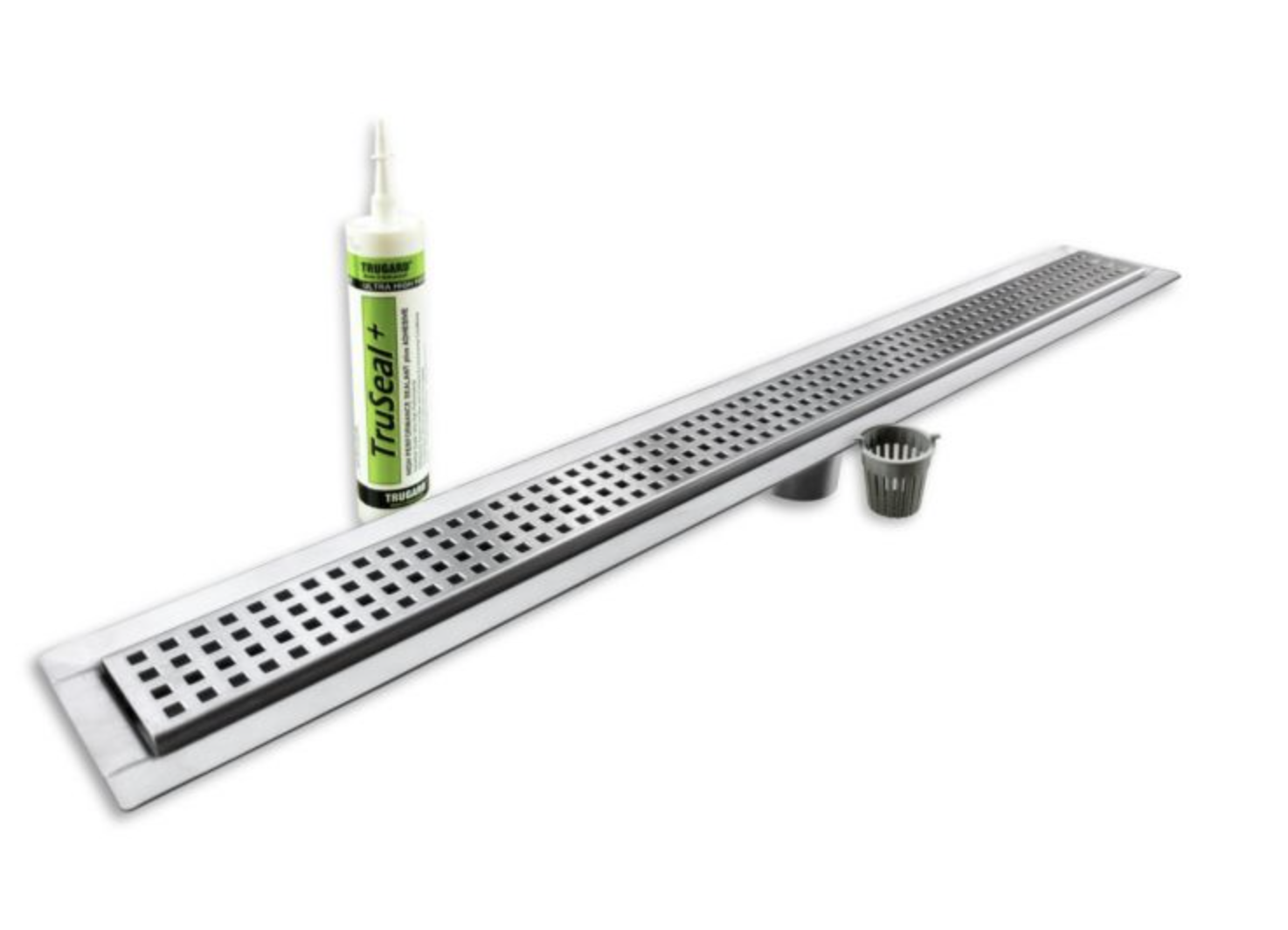 Well, Google is a wonderful resource. I know everybody says it and it's one of my favorite things to use, but how you use it and the questions you ask of Google really affect the results that you're going to find or receive. So one of the things that you need to look for in where to get this type of drainage is going to be understanding - like we talked about in number one - a little bit of the questions you need to ask yourself for the research, but you're going to now move into adding where to buy or where to get this kind of style or this color or this length or you know, asking the questions of "I want my drainage here, where do I get it?" One of the best things when researching and trying to determine where to get an item is going to be actually calling companies and seeing what they can provide. Not everybody has the best online information or resources or installation guides or you being able to see and look at all of the angles in the product. So sometimes it's just better off calling the company and asking them some of these questions. "Hey, I'm looking for this style", "My entire room has this kind of a concept", "I have wheelchair needs that need to be handled, can you help me find a product that will allow me to do that?"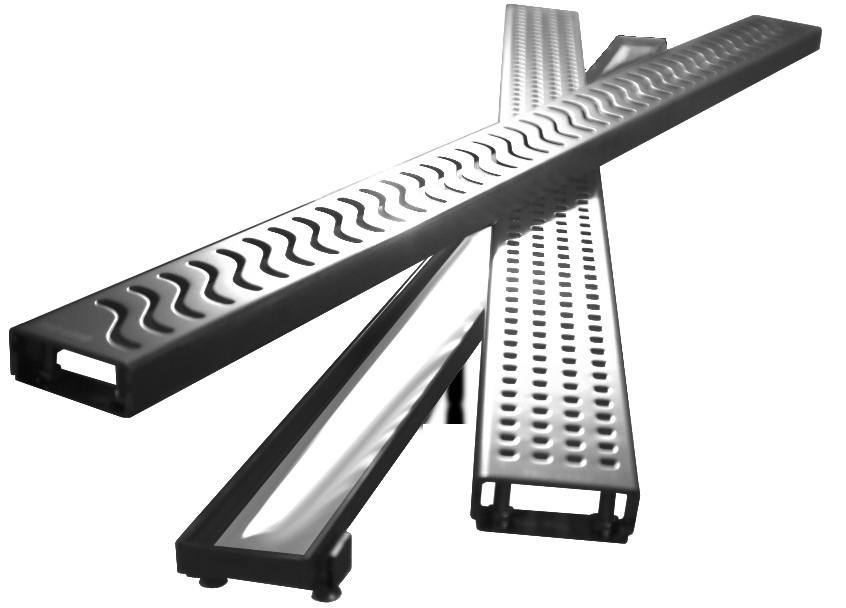 So where to find it is again just another researching topic. Some quick references that I will give you that kind of more pertain to an overall great system and design is one - going to be our product - which you will get. It works very well with our waterproofing system to give you a full envelope of lifetime warranties and those things and to look more into that please check out this article here or definitely give us a call or shoot us an email, we'll be able to help you out. 
There's also another company called Schluter, and they are a high priced company that provides the same types of materials. We can't say they're the same because they're not made in the same location, Schluter provides a bonded polyethylene membrane system and TruGard (us) provide a bonded polyethylene membrane as well as three or four stainless steel linear drains. Both companies provide that caliber of quality, however we're at a medium to lower end price range and Schluter is more at the high-end price range. So I've talked about this in other things. In this we'll -- I'll dig deeper in part three here when I get into price points. But there is two places, there's also a few other companies. One is called -- I'll add that in via text later. 
So now that you have a couple other places of where you can get it, you understand how to research and ask the right questions so that you will be provided with the kind of answers that you need - let's now move into the price point.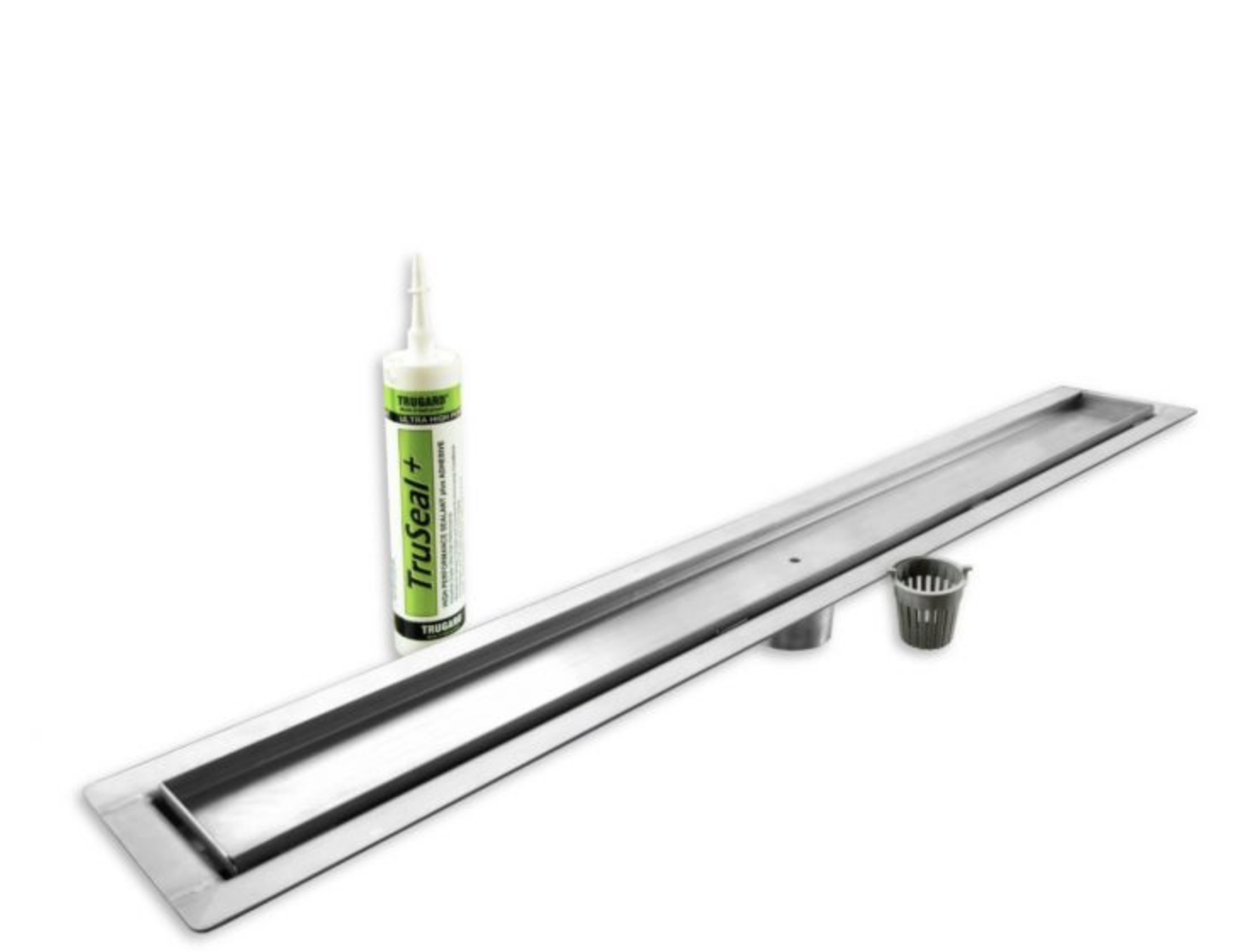 Price Points

Now price point again ties into number one which is your research. It ties into number two of where to get it and that's going to basically give you a really good understanding and show you how you can consolidate that information and come up with a price point. If you're wanting really high end, solid 304 stainless steel high quality items at you know $50 pricing, you're not going to get it. However, you don't have to spend $1000 to get that exact same quality. You can find it for more affordable and packaged as a kit. Keep that in mind when looking at your research. Your dollar doesn't always have to go to the brand name, but it will actually go to providing that same high quality for more affordability, which gives you a better ratio on your return on investment and the only reason the price points come up is because what are you doing with the area that you're trying to improve? Why are you looking for this type of product? Well, it's going to be for an office. It's going to be for your dream home that you're currently building. It's going to be for a remodeling because you're trying to sell and you know you need more value to upgrade to get a higher price. Well in all of those instances using that same dollar to buy a high end product you lose some of those margins per se that you would keep for yourself when you could get that same item for a different price point. So I always want to bring all these up when looking in the product research area, not just with us but in any circumstance this always comes up and I just think that when you do your research and you find the types of materials...for example, the 304 grade stainless steel, you know that's a good high quality product because the high end company sells it. So now what do you do? Well, you take that and say "Hey, I need this kind of material. I'm going to go shop on price." Now you're getting high quality for the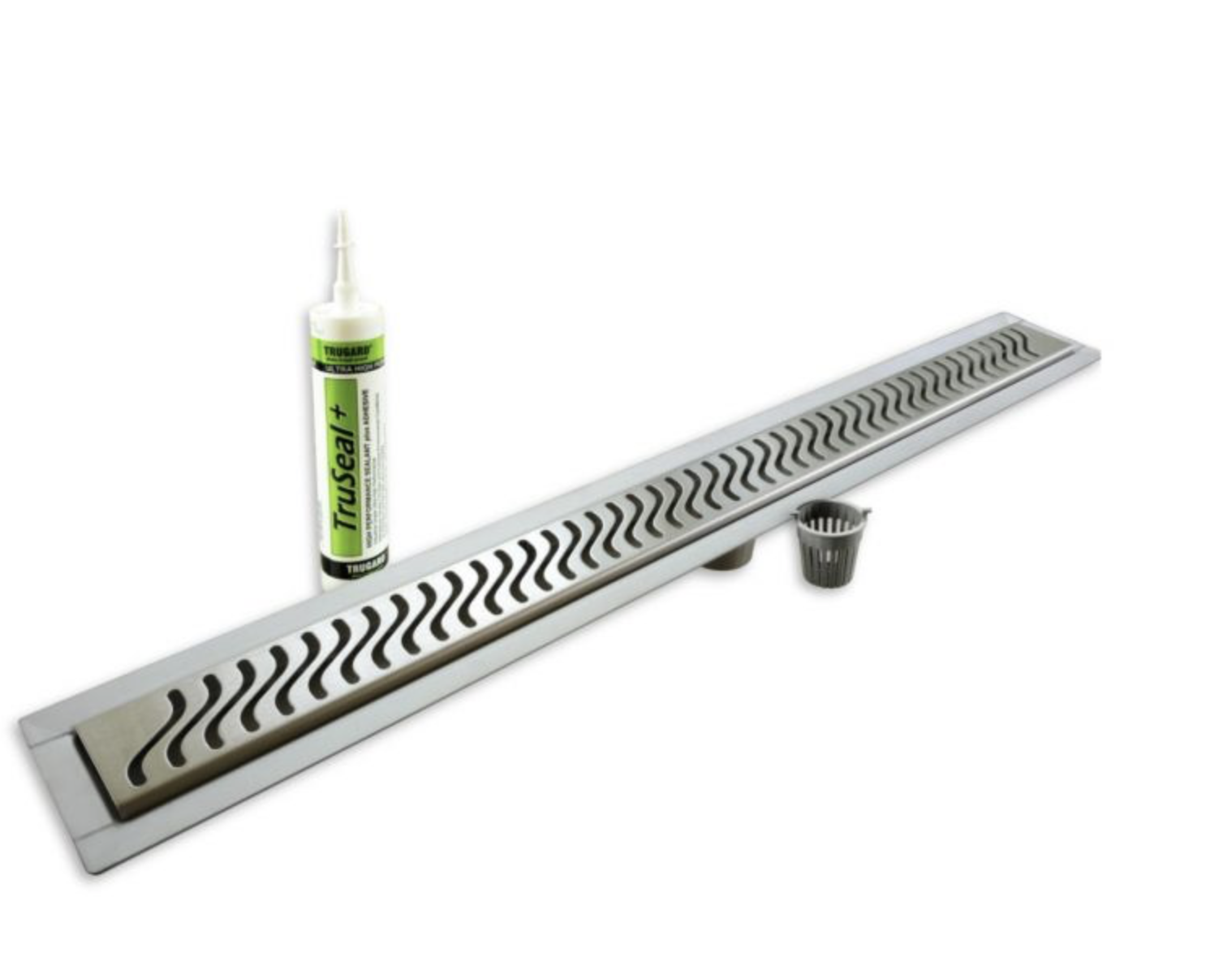 right price and it expands your margins on what you can keep in your pocket to do and spend more on other areas of your project to increase the value that you need to do to get the right kind of product.  overall. So I just wanted to put that point across in the price point area to help you understand and have some good information on the research and things 
Waterproofing
This is a huge part of installation, is going to be the waterproofing. Like I mentioned some of the questions in the beginning which were what kind of style of bathroom are you
doing? Meaning - Do you want it curbless? Where do you want the position of the drain? All these install questions come into play more here when it starts pertaining to waterproofing. So let me get a little bit into the process in order of an installation for this type of product. First of all and really in any product, number one - you need structure. What is a structure? 2x4s, cinder blocks, bricks, metal, metal framing...any of those will do when constructing the overall room and that's where you need to start.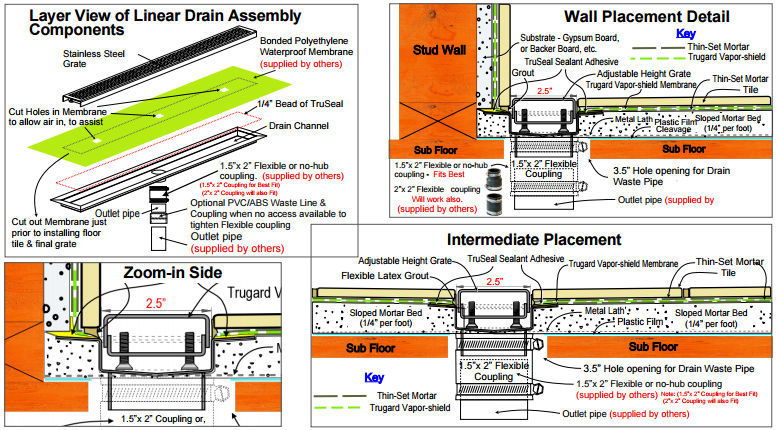 Installation methods
Next you're going to need to look at "Okay, am I going to concrete board? Just regular drywall sheetrock? Am I going to use cement board? Concrete board? Purple board? Green board? What kind of board? Then I need to look at the company." So once you have determined that, you now have your walls covering your studs or whatever type of material your structure is. Okay, what about the floor? Are you going concrete slab on the first floor or are you on a second floor that's applied with substrate? That matters. So when you know what it is it's now time for you to determine how you're going to slope your floor to get the desired design and style that you want. 
Now when talking about sloping your floor, there are certain codes that you need to do as per inspection and per your county office or your local inspectors. Give them a call. You need things to be as inspected as we're moving into this to make sure that you are approved and up to code. Please go to them for those as we cannot provide that kind of advice because we're not locally there or legally we can't do it. So now that you understand your surface and things like that, you know what's there, your walls maybe have drywall. Your floor is just a plywood floor. Maybe you cut a hole out because that's where your waste pipe is where all the water's going to flow out of. Okay, so now it goes into the positioning. It goes into of where you want your drain. So that hole that has already been cut out where your waste pipe is, that may not be where you want to drain. So first of all you need to move that waste pipe where you want the drain. All of this should be pre-drawn, pre-discussed with the designer, your significant other...whatever it is to figure out the design and styles that you want before starting to cut and work in this process. 
So now you have the drainage outlet and where you want it, you understand where it needs to go. Let's talk about putting a linear drainage hidden underneath bench, okay? So it's going to be on your right wall. If you are standing in front of the wet area, the drainage is going to be on the right and that means your slope all needs to slope to your drainage. All of our products come at a a quarter of an inch per foot, which is up to code in any area. So at a 1/4 inch per foot, your slope you're going to need to start from your left wall and go all the way to the right wall to where the drainage ends. So if you actually just go backwards from the drainage to your left wall you will know how far that is and if you do that by a quarter inch by foot you'll know the max height that that's going to be, okay?

Now because you're sloping left to right, that means your angle is not straight in front of you or straight away from you and therefore you're going to need a curb. Now that you get a curb, you're going to put a curb there in front of you. You are going to have to step into it and the water is going to flow left to right based on the slope that's up to code and flow into the linear drainage. So you will install the drainage, then the base that is pre-sloped, then you'll put in your bathroom curb.
Now we need to look at "Hey, I'm going to cover this thing with a bench." Now I need to find a bench that goes up against a wall that is raised off of the floor, has a structural capability of doing that and will allow me to hide the linear drainage. So now you'll install your bench. Now are there niches or shelves that you're going to need or want within your showering area? You will then install those. Once you're all done with that and putting in all the accessories, you need to move into waterproofing which is what this category is and you will waterproof all of it. Now that it's waterproofed, you can begin applying your finishing surface - whether it's
stone, whether it's mosaic tiles, whether it's regular tiles, large format tiles, anything like that is now when you would start applying all of that, and then grout...and now you are finished.
That is a full process and a quick breakdown of an install and to find out more on the exact pictures, descriptions and documents on that please
view this article or PDF here.
Benefits and issues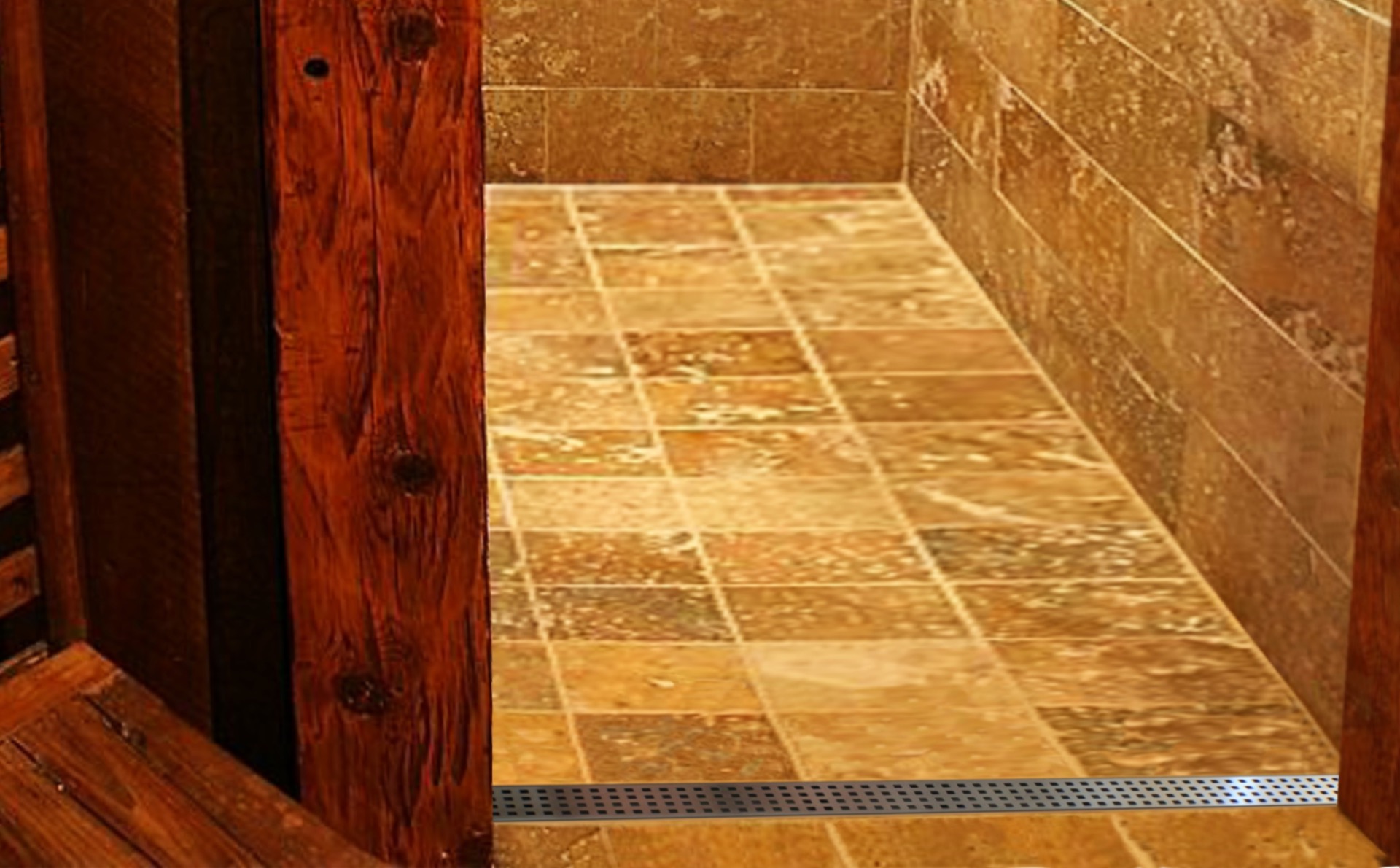 Benefits for a straigt drain really are a lot. It keeps things simple. The installation is easier. It looks nicer. It's cleaner. It's more elegant. It demands a higher value. It has a higher
price range and it creates an overall feel of more of a sauna or spa like feeling which when either selling a home or moving into one it just makes for a really good feeling in that area. Some of the issues that can happen with drains is when you don't get the ones that work well with shower waterproofing system. Some will have flanges that are beneath the height of the drain and water won't be able to actually go into the drain because when it seeps through your finishing surface - stone, tile, grout - it's all porous so it's going to soak up all the water and then it's going to go under it and so that's why you need a waterproofing. So if the water goes and hits up against that stainless steel drain, it's going to sit there and puddle and when water sits and puddles it creates mold, mildew and it just gets really nasty really fast. So you need to make sure that to avoid issues you need to find a drain that works well with a high quality waterproofing system. It will not cost any different. Price points won't change depending on that issue. So definitely go with one that solves the issue and doesn't create the issue.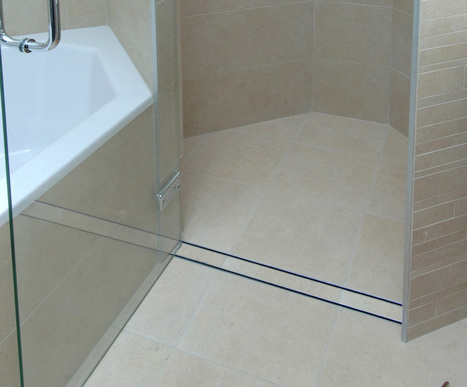 In conclusion, I want to wrap everything up. A linear drain install is a really good high quality method that will demand a higher value for that room and when matching all of the rest of your house and home and just being able to invite people in and have them use that shower with guests and things, it has a higher value when you're renting out to renters and stuff - a higher value, higher rent. When you are doing it for the office it's almost mandatory because of the high quality status that it brings in that office. When it's doing it in your own home you're creating that spa like feeling. It's very relaxing, it's very nice. It has just a higher quality and a higher status that just makes you feel really warm and really welcome and it is a really good overall feeling. I recommend it. 
Do your research. Don't overpay for the same product. Make sure it stays up to waterproofing standards and overall you know, good luck. We'd love to see your project. Contact us with your comments and questions, and that's it! Thanks for reading.