INSTALLING THE BENCH
1. Ensure that all walls and floor where the Bench is to be installed are square, plumb and of sound construction.
2. Dry-check the fit of the Bench with the walls and floor. Cut, trim or shave the bench until the fit is optimal.
3. Apply latex modified thin-set (Rapid or Speed-set is highly recommended) to the adjacent walls behind the TruBench and to the floor under the Bench, using a 3/8" X 3/8" square or U-notch trowel. (The bench is not to be placed on top of any type of pre-existing slope, mortar bed or tray). Rapid cure thin-set is not required, but will reduce the risk of possible movement during the tile installation process.
4. Using the flat side of the trowel, back-butter the bench by keying a thin layer of mortar onto the sides of the bench that will be adhering to the wall.
5. Embed the bench into the thin-set, flattening the ridges where possible.
6. Confirm correct sloping of the bench and remove all access mortar.
Congratulations!
Your shower bench is now installed.
You are now immediately able to waterproof your entire shower in accordance with Tile Council of North America (TCNA) guidelines, following all applicable building codes. (No, you do not need to wait for the bench mortar to completely cure)
Next, install your tile or stone according to TCNA guidelines.
Note:The TruBench "Corner Seat" requires for the installer to add a sloped skim coat of thin set mortar for adequate drainage. The TruBench rectangular shower bench seats come with a pre-sloped top built into the design.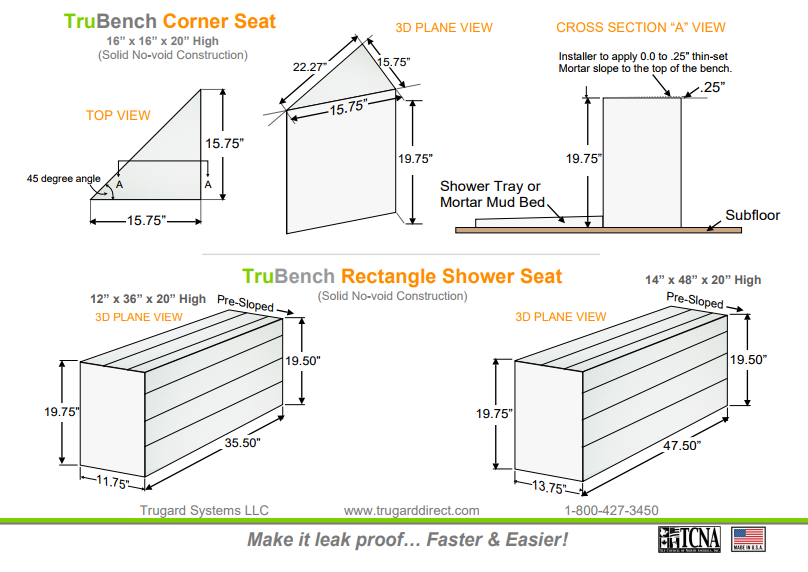 Copyright © 2018 Trugard Direct. All Rights Reserved. | Created by AVID Dynamics.