From $79.00 Regular Price $121.54
To $1,161.11 Regular Price $1,786.32
Trugard Membrane is a pliable sheet-applied waterproofing layer and vapor-retarder created for the direct application of tile. It is perfect for usage in tiled showers, bathtub surrounds, domestic steam showers, and other tile applications in damp locations.
* Sheet-applied polyethylene waterproofing membrane and vapor retarder
* Gets rid of water damage which can lead to mold and mildew
* Features a modified polyethylene (PEVA) core with non-woven polyproplyene on both sides
* Includes an anchoring fleece on both sides to anchor the layer in thin-set mortar
* Perfect for waterproofing in conjunction with tiled surface areas on walls and floorings
* Trugard is 8-mil-thick and assurances consistent density
* The 6' 7" (2-meter) broad roll covers wall location from floor to standard shower head height for fewer joints and a much faster installation
Trugard waterproofing layers supply defense and peace-of-mind behind your shower walls and other tiled components based on wetness. Trugard are pliable, sheet-applied, bonded water resistant layers and vapor retarders with limited crack-bridging abilities.

Trugard is a sheet-applied polyethylene waterproofing layer and vapor retarder. This layer features an anchoring fleece on both sides to anchor it in thin-set mortar.
* Trugard is a pliable sheet-applied polyethylene waterproofing layer and vapor retarder for usage with tile
* Gets rid of water damage which can result in mold and mildew
* Features an anchoring fleece on both sides to anchor the layer in unmodified thin-set mortar
* Ideal for waterproofing in conjunction with tiled surface areas on walls
* Produces no VOCs and can contribute towards attaining green building credits
* Guarantees consistent thickness
* Listed by cUPC and assessed by ICC-ES

* Types a totally sealed assembly to prevent leaks and water damage
* Made from inorganic product - will not support mold growth
* Quick and easy to install with thin-set mortar
* Integrates with other Trugard waterproofing items such as corner pipe and mixing valve seals Trugard-DRAIN and Trugard upraised shower substrates
* Trugard Is A Flexible Sheet-Applied Waterproofing Membrane And Vapor-Retarder Designed For Tiled Showers Tub Surrounds And Other Wet Locations To Be Tiled.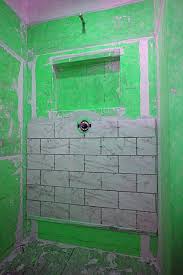 Trugard is a user friendly sheet applied waterproofing layer. Developed to be used in combination with natural stone, ceramic, and porcelain tile coverings, Trugard Waterpoofing Layer can be utilized to waterproof shower floorings and walls, tub surrounds, and other areas or applications that need waterproofing. While the Trugard Waterproofing Layer integrates with the Trugard Shower Kits, it can also be used in traditional shower constructs that use a pre-sloped mortar bed rather than preformed shower base such as the Trugard Shower Tray. Shower systems

Utilizing the Trugard Trowel or a 1/4" x 3/16" (6 x 5mm) V-notched trowel, spread the thin-set mortar over the substrate and press the Trugard Layer into the bond coat. To prevent air bubbles, work the Trugard Layer into the mortar with the flat side of the trowel (held at angle) and utilizing smooth, diagonal motions. Trugard-Band (set up with unmodified thinset) can also be utilized to cover the joints developed by adjacent edges of the Trugard Layer together.

Trugard Waterproofing System's item line consists of waterproofing layers for all tile applications as well as parts for constructing showers. The Trugard layer can be used to add total waterproofing and vapor management to shower systems as well as any tile floor set up utilizing the Prova or Prova-HEAT uncoupling layers.

Trugard membrane is a polythethylene waterproofing sheet and uses protection versus vapor penetration. Appropriate for waterproofing tiled surface areas in both flooring & wall installations.

Function
-Trugard is a special bonded waterproof layer with minimal crack-bridging abilities. It is made of an advanced soft-polyethylene that is covered on both sides with a special fleece that is suggested to anchor the layer into the thinset mortar that you use.
-Trugard was developed as a waterproofing layer that was meant to be used in conjunction with ceramic and stone tile coverings. The tiles can be directly installed on the  -Trugard utilizing a thin-bed approach. Trowel-applied coverings such as plaster can also be used.
Pre-Cut areas of  -Trugard are offered for outside and within corners, along with for pipe collars. The best  -Trugard-BAND to seal butt joints or corner joints remain in widths of 5 ″ (12.5 cm), 7-1/4 ″ (18.5 cm), or 10 ″ (25cm).  -Trugard-FLEX in 5 ″ (12.5 cm) or 10 ″ (25cm) widths are indicated to be used to seal growth joints or versatile joints.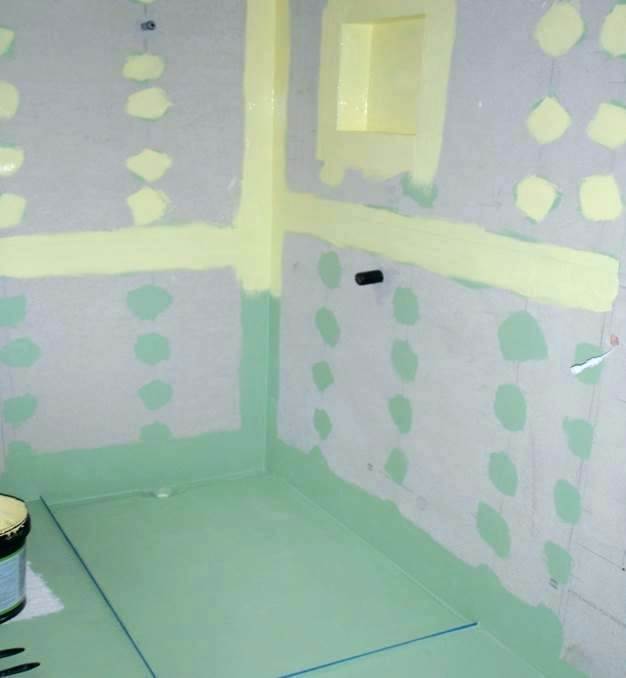 Product
-Trugard is a polyethylene waterproofing membrane that has a very high steam diffusion density. The product itself is physiologically safe and the it needs no unique disposal.
-Trugard is resistant and waterproof to many chemicals typically come across in tiled environments. For acid-resistant coverings, utilize an epoxy adhesive to set and grout the tile.
-Trugard appropriates for floor and wall surfaces where defense versus the penetration of water and wetness or other hazardous substances is essential. Surfaces consist of locations surrounding swimming pools, showers, and tub surrounds. Industrial applications consist of breweries, dairies and the food market. In order to get the complete effect of  -Trugard it is essential to confirm that the substrate is tidy, even, without moisture, and load bearing. Surface areas that inhibit proper adhesion should be removed or properly dealt with.

Alternative kit for showers. It is made of soft polyethylene, which is covered on both sides with a special fleece webbing to anchor the layer in the thin-set mortar. Trugard was developed as a waterproofing layer to be utilized in conjunction with ceramic and stone tile coverings.
By utilizing this high-quality item, we are arming your restroom with security from dripping water that can harm your restroom in the future. View this video to discover why the   ®-Trugard is a terrific option for your bathroom remodel.

At its core,  Trugard is a polyethene sheet that's naturally water resistant, bonded in between two sheets of polyester fleece that offer the mechanical anchor for the layer. It hinders water from penetrating to the interior structure of your shower. The Trugard family of products is bonded with premium unmodified thin-set mortar and so is compatible with anything you 'd usually utilize thinset to bond to. The structure of the layer is hydrophobic, and water beads up on its surface area. Its vapor retardant residential or commercial properties likewise make Trugard ideal for use in steam bath and showers where the water is mobile as a gas. Since the assembly consists of just inorganic materials, and holds a minimum volume of water, it does not promote the development of mold and does not become impaired with time like other methods and products.
To make setup faster and joints or unions more robust,   ® makes Trugard available in a number of carried out alternatives for outdoors and within corner joints, butt joints, mixer valve openings and pipe protrusions, Together with total shower stall packages. Shower pans pre sloped
Trugard itself comes in big orange rolls 36" large. We utilize it on the walls, the shower pan and make shower niches with it. We apply it straight to drywall or even utilize Trugard-board.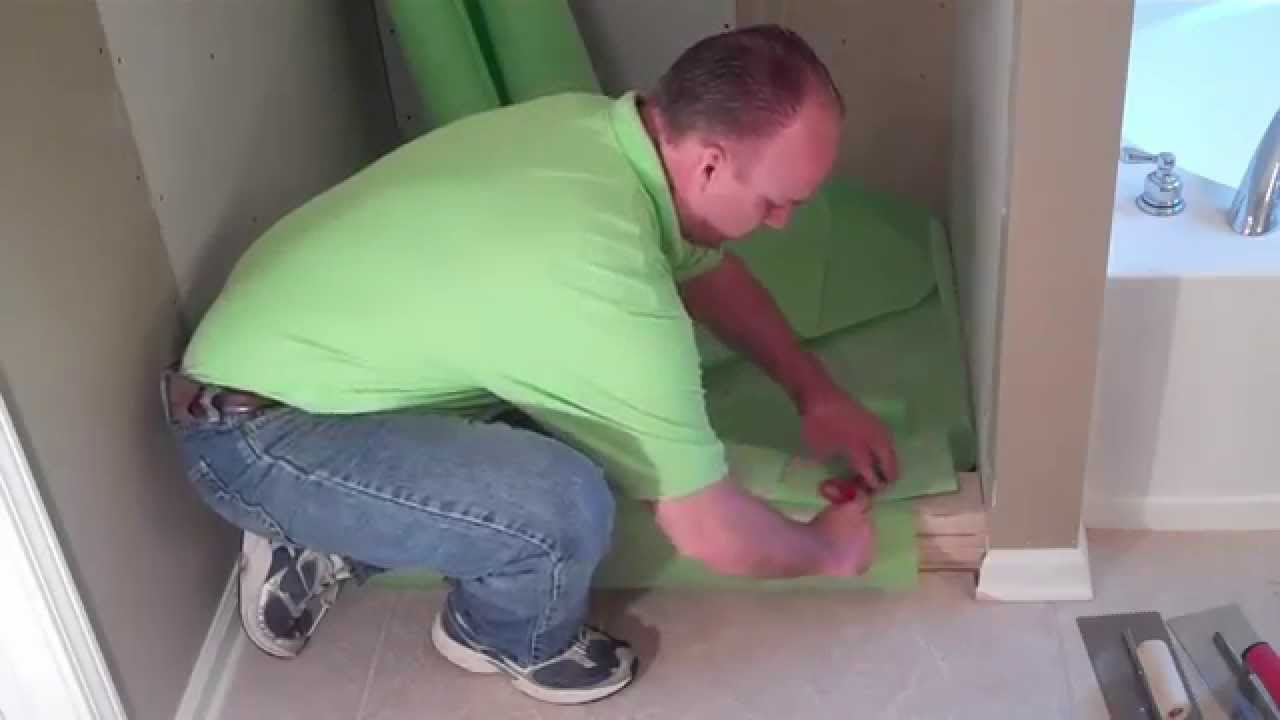 In order for   Trugard to be efficiently bonded, it specifically requires un customized thin-set mortar. Because Trugard is water resistant, the water would take days to leave and the mortar wouldn't set for days or even longer. It might also clean away the first time the shower was utilized if it had not set correctly.
Why does not the mortar slide off the layer? Keep in mind the fleece? The mortar soaks into the fleece throughout installation, making a mechanical bond, not simply a layer. My favorite example of this is in cooking. You're making a pancake, you put your batter in the pan and after that put a cleaning up sponge in the pan too and ensure batter take in. When the pancake is prepared, the sponge is going to be prepared into the pancake. There will be no separating it, the pancake will give very first. therefore it is with the fleece layer and the thinset mortar ... The layer is mechanically anchored.