Instruction on Shower Drain Installation
The shower drain installation is the most important step when working on any design. Getting this right will determine if you have leaks in a few years or not. Kind of a big deal isn't it? In this article, we have provided step by step instructions on how to properly install this type of equipment. There are different types, styles, and designs that are available with included instructions. Please look through this guide for anything related to your install. If you have further questions or need help understanding the process please contact us as we would be happy to help. 
This system is not like most. This particular guide is for waterproofing systems. Since this part of the install is one of the most important, we have specifically designed this system to work with waterproofing membranes. There is a whole section to talk about waterproofing, however, that is in another guide that you can look at after this one. You need a wide flange for the membrane to attach to which also means that this needs to be installed first. So this system will not work with an old rubber lining system. If you need more info on waterproofing and direct help with your specific area, please give us a call, we have an awesome support team that would be able to take care of anything you might need.
Note* - An important step to consider is how you want your floor to slope. Which direction and do you want a barrier-free shower?

Attention: Most do, but not all cities allow PVC waste drains. Check with your local building inspection agency. We accept no responsibility for code violations.
Installing a Trugard-Retro-Fit Drain Assembly
The Trugard Retro-fit is used to convert a clamping ring draining system into a membrane bonding flange draining system to create a completely watertight and leak-proof envelope behind tile and stone.

NOTE: When installing the Trugard Retro-fit using a pre-sloped floor tray, additional thickness build-up is required to raise the tray to meet the additional height of the Retro-fit design.
Here we're going to install the Drain And I have four stainless steel screws. already done the dry fit now where this one is one inch I actually want to raise this side up so I'm going to put the screw in and you go in any of these slots. it's really close right there the first thing that we're gonna do is we're going to find level with our drain with the top of our drain. so I have a two-foot level and in two feet we should have one half inch rise for a slope of 1/4 inch in one foot. so we're going to take a two-foot level and we're going to go out there and find level and mark level. okay, so the short and easy way to do this is this isn't what happens to this board here and my advisor this one inch this should be one and a half so we're going to come out here and lay this board and Mark one and a half inches around here. You need to pay attention to your level. you want to make sure this is level and then work it. we're going to be making a rapid set mud bed so that it will harden in about an hour after we're finished installing it. now what you want to use is the sand topping mix from quikrete is a good brand there are other ways you can make it and then we're going to put one part of rapid set three parts of Quick-set. set up in about an hour so that we can go ahead and install the trugard vapor shield membrane as well, today. you want it to be pretty dry. it should not squish through your fingers so pretty dry but in a ball. I can have a little bit of dry in the in the bottom of the bucket I'll mix that in here. now underneath we're going to just save and push the mud underneath the drain. also, make sure you put a plug into the drain so nothing goes down in the in the shower. Now continue packing the mud around the drain and fill up the rest of the shower with mud. Once you reach the pencil line that you put on the outside walls you want to make sure to pack the mud exactly around the line to ensure you have a level floor all around the shower base.
Keys to understanding Thin-set Mortar
Key 1.
 All Unmodified thin-set mortars (ANSI A118.1) are approved for use with Trugard Vapor-shield. Higher-quality unmodified thin-set mortars generally have less coarse sand which allows the mortar to spread more evenly and easily behind or underneath the
Vapor-shield membrane
making for a simpler and better installation.
Key 2. Approved Modified/fortified thin-set mortars (ANSI A118.4 and ANSI A118.11) may be used for both the installation of the Vapor-shield membrane and tiles. Most modified thin-set mortar will work with the following conditions:
Key 3. Do use Modified thin-set mortar on porous substrates that will absorb the moisture and allow air to react with the thin-set mortar.
Key 4. Do Not use Modified thin-set mortar where the application requires the thin-set mortar to have greater than 1/4" in thickness under or behind Vapor-shield membrane.
Key 5. Do not use Modified thin-set mortar to install tile larger than 18" x 18" square on to the Trugard Vapor-shield membrane. The weight of the tiles combined with the extra time the modified thin-set requires for drying time when attached to the impervious Vapor-shield membrane may cause failure.
Key 6. The complete guidelines consist of the written handbook of instructions, the training videos, and the current and updated instructions, information, approved practices and products list on the company website at:
Top FAQ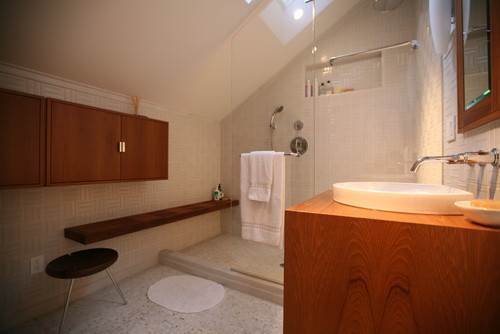 Frequently Asked Questions Part 3
Q: Can I use a premixed thin-set mortar to install TRU-GARD Vapor Shield and tile in my shower? 
A: No. TRU-GARD Systems does not recommend the use of premixed thin-set mortars (mastics/adhesives) in any TRU-GARD Vapor Shield installation.
Q: I accidentally poked a hole through the TRU-GARD Vapor-shield while installing the membrane. Do I need to start over or can I simply repair the hole? 
A: Holes can absolutely be repaired by installing a "patch" of TRU-GARD Vapor Shield with thin-set mortar or Trugard approved sealant, making sure to provide a 2" overlap in all directions. Small penetrations may also be repaired using the Tru-seal/EvoSeal sealant.
Q: Can I install glass tile over TRU-GARD Vapor-shield? 
A: Glass tiles are unique products and may require special consideration. Please call TRU-GARD Vapor Shield Systems at (800) 427-3450 to discuss your particular application before installing glass tile over TRU-GARD Vapor Shield.
Q: What is a water test? How do I perform one on the TRU-GARD Vapor Shield System? A:
A water test is a quality control check performed on any shower before setting tile. It basically consists of stopping the waste line with a test plug and filling the base of the stall with water to check for leaks. You can quickly check the test plug by filling the pipe and drain with water up to the height of the integrated bonding flange (or a little below). If the plug is watertight, then you can continue filling the assembly. The water level is marked and the assembly is left for a specified amount of time (24 hours is typical). If the water level remains at the original mark there are no leaks and it passes.
Note: We require two layers of protection in the pan area (the floor and a minimum of 2 inches up the wall) protection layer 1. All corners and penetrations in the Vapor-shield membrane pan to be sealed with the Trugard Tru-seal. and protection layer 2. application of pre-formed inside and outside corners as described in the instructions as well as TruCurb shower Curb. Click here.
Note 2: We require to a minimum of 24 hours after setting TRU-GARD Vapor Shield to begin water testing. This will allow the thin-set mortar to reach final set and ensure watertight performance at the seams under normal curing conditions (i.e., room temperature). If temperatures are much lower (e.g., around 50 or 60 degrees), then it is best to wait longer. If you are building a barrier-free bathing area, then you will need to provide a temporary dam (e.g., a PVC pipe and silicone sealant) at the threshold).
Q: What is crack isolation? 
A: Crack isolation is a common practice used when installing tile over concrete or other substrates. By using a crack isolation product or system you can sometimes prevent settling cracks in the concrete/substrate from migrating up through the tile and/or grout.
Q: Does the polyethylene membrane have better crack-bridging abilities? 
A: The pliable polyethylene membrane has incredible limited crack-bridging capabilities and is forgiving as structures do move and settle. The pliable membrane has incredible yet limited crack-bridging capabilities and is forgiving as structures do move and settle. The polyethylene membranes can meet and exceed the ANSI A 118.12 testing requirements, whereas the liquid membranes that are painted on does not meet that ANSI testing standard. Many tile contractors have expressed this concern are leery to use the paint on liquid membranes compared to the polyethylene membranes.