Once upon a time, contractors and consumers didn't give much thought to the humble bath drain; but when the linear drain and curbless shower design hit the scene together in the mid-2000s, people took notice in a big way. Let's explore what makes this design so sought after and look at some affordable options for installing your own modern walk-in design with linear drains.
#1: Accessibility: Every Day of the Future?
If you're thinking of trading your bathtub for a shower, you're not alone. According to the American Institute of Architects, tub-free bathrooms are increasingly becoming more popular for a variety of reasons.
By 2040, an estimated 80 million seniors will make up 21% of the population; and many existing homes simply aren't prepared for to safely accommodate elderly people – there's too many tight, unfriendly spaces, as well as slippery step-in showering areas and bathtubs.
Curbless bathing areas bridge the divide between the rest of the bathroom, making it completely wheelchair and walker accessible, with the added bonus of having a sleek and simplified modern look.
While aesthetics are certainly a top priority when it comes to home renovations, of equal - if not greater - importance is function and capability for the bathroom to meet a family's needs as they move through the stages of life in the home.
The barrier-free style was conceived over 50 years ago for people with physical limitations and has become a preferred style choice due to its spa-like charm. Some barrier free areas with linear drains are long and wide enough for a wheelchair to make a complete 360° turn. This feature is also visually pleasing due to the absence of a door, and use of invisible linear drains which make the rest of the bathroom flush and continuous.
According to some contractors in the home construction industry, the lowest price to install a barrier free walk-in is $10,000; but don't let this scare you away. Every bathroom is different and certainly customizable to a range of budgets. The cost mainly depends on installation and plumbing requirements, along with the age of the plumbing. A barrier-free, walk-in doesn't have to cost any more than a conventional stall.
The smallest walk-ins are about 5 feet by 2 feet and the price depends on several factors. It is safe to assume an existing standard bathtub could be replaced with a walk-in without needing to enlarge the bathroom.
According to the trade industry, a bathroom's average life is 15 years, while the industry standard warranty for linear drain products is 10 years. Trugard products have a 40-year proven track record and also come with a lifetime warranty, so you get the most value for your project, no matter the size.
The best part about a walk-in with linear drains is they make homes more attractive to all kinds of buyers for a number of reasons - seniors and people with physical limitations, or those who simply enjoy clean lines and designs. For this reason, bathroom industry experts have predicted most homes will have this feature in the future. 
Let me ask you a question. - How many times have you fallen, stubbed your toe, or hit the curb when showering? As I'm sure, like me, WAY too many times! If you want to know more about that type of product please click here.
#2: Trendy and Sleek Design in Modern Homes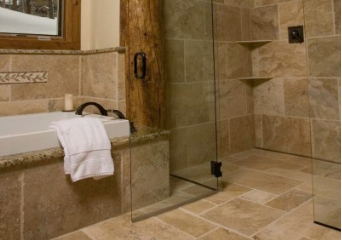 The bathroom is a uniquely personal space, and in many modern homes, the shower itself has become something of a small sanctuary, creating endless possibilities for customization.
Barrier- free, walk-in areas are popular in modern bathroom designs which recognize simplicity as beauty. As more and more contemporary bathrooms break free from traditional design barriers, smarter and cleaner design solutions are emerging. A Bathroom Trends Study by houzz.com revealed the top bathroom remodel trend in recent years has been kicking gaudy old bathtubs to the curb. Indeed, it is one of the most gratifying details being incorporated in the latest bathroom designs is the modern bathroom.
The barrier-free design can be integrated into any bathroom - large or small and in any design style. It looks sleek and clean, giving the area a seamless appearance, with or without doors. Barrier-free bathing areas make the entire room feel like a big wide open space, rather than a room segmented into thirds. The end result is a beautiful, inviting place with less visual clutter.
A recent survey by the National Association of Home Builders revealed a trend in the new and growing market of Millennial home buyers to include a separate walk-in in the master bathroom, in addition to a bathtub. For this bathroom design, barrier-free, walk-in areas save considerable space to accommodate separate tubs. The barrier-free design also makes the most use of space in smaller bathrooms, a significant quality for Generations X and Y who are known for their love and appreciation of "tiny houses".
With an ultramodern walk-in, you could get more from your existing space, experience the latest bathroom technology and make your bathroom look amazing as you enjoy a spa-like experience in the comfort of your home every day. As an added bonus, fewer corners and edges also mean easier cleaning! For those who enjoy neatness and efficiency, this is definitely the way to go.
A Curbless shower is a great complement to other popular high-end bathroom upgrades such as radiant heating floors and rainfall showerheads - further proof the bathroom is truly becoming a focal point in the home. Integrating a curbless bathing area into your bathroom could be the small detail that makes an incredible difference. Perhaps the most noticeable difference will be the expansive effect on the room's overall size.
Over the next several decades, curbless areas are expected to continue gaining popularity; so homeowners need not worry they are installing a trendy element which will quickly lose taste. Adding to their appeal, barrier-free, walk-in areas offer a number of fundamental advantages (like NO LEAKING!) compared to standard cabins. At the same time, they look elegant, open and sophisticated, making them a fantastic addition to any modern bathroom.
While the benefits of installing a walk-in bathing area is easy to see, certain factors such as drainage should be taken into consideration to optimize the end result. Modern drainage systems offer several solutions, and one of the most excellent by far is the linear drain - a system which allows the water flow to drain into a channel (You can find more about the installation of a drain here. It can be installed anywhere in the area -along the wall or at the threshold. Read more about the unbeatable value added to bathrooms with linear drains.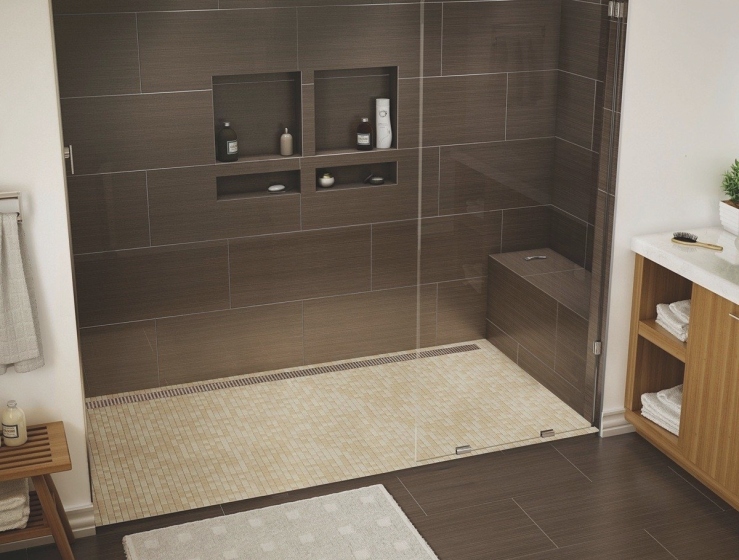 #3: Linear Drains Are the Best Choice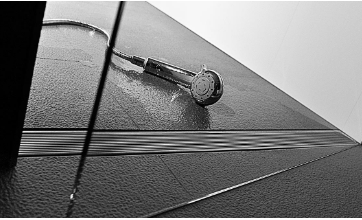 So what is a linear drain exactly? By definition, it is an elongated rectangular exit for water, which maximizes the flow of water toward a single exit port achieving the most efficient removal of water from the area known to be possible.
Linear drains are the fastest growing market within the luxury plumbing industry, and are being requested more and more every year. But linear drains do more than just look cool; and a closer look reveals they are really more of an improvement than a luxury. They come in a number of sizes, drain cover patterns and finishes to easily gratify the architect, designer, homeowner and contractor. If you fit into any of these categories, chances are you've ordered a few in the last year; but here are some surprising facts about linear drains you may not know:
The decorative linear drain was introduced as a concept to North America in 2007; but they've been popular in Europe for decades. Europeans have an understanding that it is substantially more effective to gradually slope the floor in one direction, rather than four directions toward a center drain.
With a linear drain, a true curbless entrance is possible, which is especially great when designing for accessibility.
Designers love using linear drains in bathroom installations. The gradual, sloped floor used with a linear drain also makes it possible to use large tiles to match the rest of the bathroom, with no barriers between them; this means no tiles cut in funny angles to accommodate a circular drain.
Barrier-free installation of linear drains makes it possible to place a waterproofing membrane below the tile or stone finish, rather than the bottom of the mortar bed like traditional pans. With the curbless method, water is shed from the surface through the linear drain with the help of a bonding lip. The slope assembly can, therefore, start from a much lower profile while maintaining a 1/4" per foot (6mm per 300mm) slope - a dramatic improvement compared to traditional, bulky, thick-bed mortar installations.
Decorative linear drains aren't just for the bathroom! They can also be used on outdoor decks, patios and around fountains or pools. They blend into designs better than other drain options. Linear drain installations don't have to cost more either!
The fact is, the drain is a fundamental component of the plumbing system; further, it is an architectural focal point with a purpose to remove wastewater. Why not let it enhance the aesthetics of the space while performing its ever-important duty? Many aspects of the linear drain make it an intelligent choice including enhanced drainage capabilities and a flawless and pleasing, modern appearance.
This simple and remarkable way of removing water is rapidly growing in popularity, a trend which is expected to continue into the future. Linear drains are available in many lengths, styles and finishes to meet the customized needs of a varied market of consumers. The best-quality linear drains take the environment into consideration while delivering an incredible value, supreme functionality and individualized style to every customer.
If you fit into any of these categories, chances are you've ordered a few in the last year; but there are some surprising facts about linear drains you may not know… Let me tell you a secret about linear drains. Did you know our linear drains have the ability to withstand being driven over by a huge truck? Check it out on YouTube! With our patented designed linear drains, no other drain has the capacity that we have.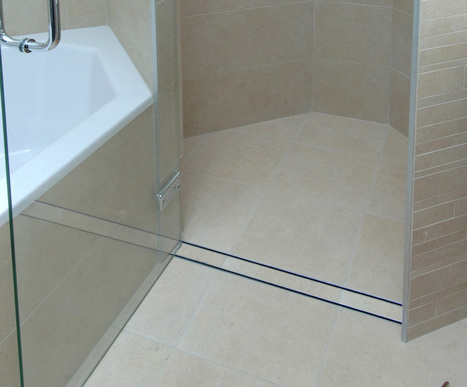 #4: No More Leaking Showers

Tile and grout - even sealed grout - are not completely waterproof. In fact, moisture and water vapor inside a shower can creep through to the wall and floor. If underlying structures below the tile are not sealed with an effective waterproofing membrane, moisture will collect in the wall and floor cavities leading to mold infestation, which further leads to health problems and costly repairs.
Barrier-free, walk-in bathing areas are an increasingly popular method for controlling water in bathrooms and bathing areas. They keep water where it belongs through one or more of the following methods:
Sloping the Floor: Sloping the floor slightly in one direction toward a linear drain is both helpful and necessary to effectively guide water over the floor's surface. A gradual slope - no more than 1/8th -1/4th inch per foot – will also allow wheeled devices to remain stationary inside the area.
Installation of a Linear Drain: Linear drains are one of the most fundamental elements of a barrier-free area. Linear drains have a long grate on top and a trough-like channel underneath where water is collected and sent out through a pipe. They are typically installed at the opening of the stall or along the floor at the back of the stall. Linear drains are highly effective when it comes to controlling water, especially if waterproof membranes are properly installed; so designers and builders can be confident that unwanted water infiltration will not occur. Generally, linear drains can remove 8 to 10 gallons of water per minute (EPAct of 1992 standards established a maximum flow rate of 2.5 gallons per minute per fixture).
Linear drains were designed for durability and were originally made for high traffic areas in airports, rapid evacuation of surface water and the containment of chemical spills. Due to their modern minimalistic character and design, they have now become a fashionable, functional architectural feature in many home walk-in bathing areas. With the current boom in popularity of barrier-free bathrooms, linear drains are on track to become standard in residential structures. They are truly remarkable at removing water from the area and they've proved it through the test of time.
Linear drains are the fastest growing market in the luxury plumbing industry, but these drains do not have to be reserved for high-end homes. A recent revolution in cost-effective building materials makes creating a barrier-free area with linear drains more economical than ever before. If you think linear drains are too costly, think again! Trugard Direct offers a full line of quality linear drain options at an unbeatable value. Read more about how you can save on your next linear drain installation.
Waterproofing is a huge underdog when it comes to designing and building a bathroom and bathing area no matter the style. It's actually a funny story because even though it's heavily underestimated you can't actually get approved by your building inspector unless it's been done right. You would think that waterproofing would be part of the design and education process when looking to make changes or remodel your current space. We have more articles on this that go into much more detail, however, I wanted to bring this up as it's a major problem and we are looking to bring this subject to the spotlight and change the way design is used in the area.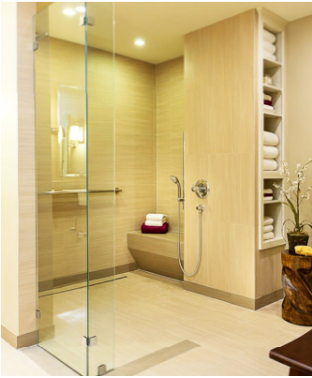 #5: Affordable & High-quality

Sleek, impressive bathrooms can add tens of thousands of dollars to home values in nice neighborhoods. Indeed, even those planning to stay in their homes long term can appreciate a well-designed bathroom. One of the hottest trends in modern bathroom design is the inclusion of barrier-free bathing areas.
Unfortunately, trendy designs often carry a hefty price tag; and it's no different with barrier-free designs and linear drain installations. However, with some innovative thinking, two brothers, Matt and Ryan Kriser decided it was time to make state-of-the-art linear drains available to more than just high-end homes. It all began with some extensive research on waterproofing systems; Matt and Ryan found the Schluter Kerdi brand linear drain system had the best long-term track record with little to no leaking problems. As contractors, they began using the Schluter Kerdi system on every home they built, and they loved everything about it - everything except the high price. This superior waterproofing system was quite expensive compared to traditional installations, so the Kriser brothers had to raise prices on their homes, which made them less competitive with other builders using the older, cheaper installation systems.
Ryan and Matt decided to look for alternate options to offer a quality product like the Kerdi, but at a more affordable price. They investigated to see if other companies made a comparable system for less. Several companies did produce a product comparable to the Schluter Kerdi – but they carried a similarly high price tag too.
Since efficiency is one of Matt's proven business strengths, Ryan suggested Matt look into creating an affordable, similar tile waterproofing system. Ryan also knew Matt was committed to quality and providing the greatest value to customers. As it turns out, the Kriser brothers' work paid off and they went on to develop a superior cutting-edge polyethylene waterproofing system which is now available to the market through Trugard Direct, giving smaller more affordable homes the opportunity to be protected from leaks and water damage while also enjoying the modern simplistic design of a barrier-free area with linear drains.
One finding revealed the Schluter System was primarily being installed in high-end luxury homes and commercial building projects. It also showed many tile contractors were still using outdated, inferior rubber pans and cement backer board systems simply because the Schluter Kerdi system would raise the price of their bids. Even so, some remodeling contractors explained to the Krisers that in over 15 years not one of these new, exceptional polyethylene systems had failed and they hadn't had a leak since they started using them.
Matt and Ryan's company, Trugard Direct offers these same ultramodern polyethylene waterproof systems. They are the best waterproofing systems available on the market and have an impeccable track record to prove it.
"Here at Trugard Direct, we have heard many sad stories of people having to replace faulty, leaking systems. In every situation, it was very costly and painful to go through the repair or replacement process.. It was apparent to us, that to these people, it felt life-critical because the life of their treasured homes or buildings were often violated by hazardous mold and structural decay."
Trugard Direct always strives to give customers the most value for their money; and this means seeing their products through to the end result. Installing a new polyethylene system typically goes much faster than traditional installations, but it can still be challenging for those unfamiliar with how everything goes together. Trugard simplifies the process by offering free "how to" technical support from experts; 24/7 convenient, easy-to-understand online tutorials; extended accessibility hours (8am to 8pm EST); straightforward affordable pricing; free shipping and a 30-day no questions asked return policy. On top of all these benefits, Trugard Direct offers a lifetime warranty compared to Schluter Kerdi's 10-year warranty; so what do you have to lose, besides a leaky old shower?
What about Installation & Products?
Design is as diverse as we all are. We have chosen to keep things sleek, classic, and timeless. Not only will the older generation appreciate the ease of use when getting in and out of the area but every generation will be able to appreciate the clean look and feel of a Barrier Free, Walk-in, timeless design. There are more than just 5 reasons this is a huge trend but we stuck with not just the best but the most important. Our products have been designed with the intent to keep the installation process as simple as possible. Though, there is some work required anyone can install our products so long as they have done their research and reviewed our installation guidelines and videos. We offer a wide variety of products and are expanding all the time. Havingabarrierfreebathingarea or wet room is not only possible with the linear drain design but now it is possible with a standard center drain design as well. Here at TrugardDirectwe strive to ensure we have something for everyone's design taste and style. 
A product question that is asked often when designing this type of area is what about a bench? For more on that click here and here.
When looking at what type of product look into company's that have a complete kit. Sometimes it isn't worth buying everything separately. 
Framing For The Project
Having a strong structure is very important and should be paid close attention too. You want to be sure that your framing meets your local building requirements and codes. You want to ensure that you follow these codes and requirements for safety and the sake of not having to redo your project in the near future. The below video shows you how to lower your floor but there are situations that don't require you to lower your floor, however, it is easy to do. The easiest option out there is not lowering your floor at all but we will get into that later. The main point of this section is to make sure you have a good foundation to build on.
Product Options
When it comes to choosing the right product for the job, do your research. Here at TrugardDirectwe do most of it for you, however, due diligence can never be replaced. I will save you some time here real quick. We are the only company that provides a system specifically for these types of installations. There are other's that try and have something that can work, but altering the structure is required. We have a pre-sloped tray that you can lay directly on top of your plywood floor so you don't have to do any structural work. 
The video below is just one of many different size options that we have available to make this project easy for you. Take a look at the other video's to get a good idea of what is possible with these tray sizes. Don't forget that if you have any questions we are always available for a call or email.
What Drain Type Should I Use? 
By far the linear drain is the simplest and most elegant drain type for this kind of project. When you add this drain to the threshold, boy it looks awesome! They are very versatile, meaning you can just use it for looks or you may need to have them for wheelchair accessibility. But that's not all, we now have created the option to have the same barrier-free entrance with a standard center drain. We have several different styles and three different finishes in our center drains. No matter the option you choose your install will be simple and you will have created a gorgeous space that will last for years to come.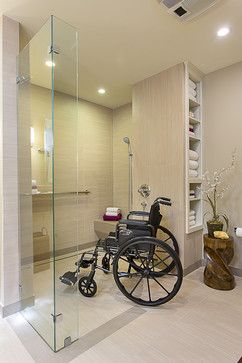 Putting It All Together
Design is as diverse as we all are. We have chosen to keep things sleek, classic, and timeless. Not only will the older generation appreciate the ease of use when getting in and out of the area but every generation will be able to appreciate the clean look and feel of a Barrier Free, Walk-in design. There are more than just 5 reasons this is a huge trend but we stuck with not just the best but the most important. Waterproofing is the most overlooked thing when designing and we always encourage everything is designed with water security in mind. 
Thank you for reading and if you have any comments or questions please feel free to contact us directly. We are always available.